nostalgia

you called me mija
while you softly played your guitar
and roosters crowed from outside the window,
loud, but organic and beautiful.

when we wanted to go somewhere
we got into the old Ford
with the busted stereo
that only played the Spanish radio station.

aye aye aye
all the way into town.

we went to recycle old soda cans
for a few dollars
so we could buy a cup of coffee
at the diner

where we stayed late into the night
where we worried over our lives
but we laughed, too
and we drew pictures with crayons.

we'd saunter through the park
awakened from caffeine
and we'd run at little noises
fully aware it was just traffic.

I remember when
I played music for you
with the guitar on my belly
and you tried to kiss me.

my heart was beating so fast
that first time we kissed –
and then it seemed expected
but always a thrill.

then I remember seeing you cry
and all I could do was hold you tight.

there was an understanding then,
that perhaps it was only temporary
and we gradually receded
into the loveless depths of our own minds.

the end came suddenly
and it never felt much like the end
we just stopped doing those things we once loved
and we grew quiet.

I miss you calling me mija
now you only call me by my name –
which is much better than
being called nothing

nothing
at all.
Powered by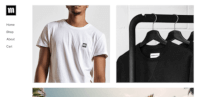 Create your own unique website with customizable templates.