There are a lot of articles out there about how to calm nerves or anxiety, but most of them are like "10 Ways You Can Calm Down"and I find that prescriptive language REALLY annoying. The only way to figure out how to calm down and cope with anxiety is through trial and error. So, I'm going to share what works for me. These are techniques that I've collected through going to therapy and practicing how best to calm down and cope on my own.

1. Admit that I feel anxious – When I start to feel really anxious it's tempting to try and shut down what I'm feeling, but this only makes everything absolutely 100% worse. Instead of saying to myself "damn it why am I so anxious I hate this" I can try saying "hey, I know I'm feeling anxious right now because my breathing is labored and my eyelids hurt." Becoming aware of what the anxiety is doing to me physically almost instantly takes the power away.

As an example, I remember about a year ago I was going to meet up with some coworkers at a downtown bar. I have pretty bad social anxiety and I pretty much never go to bars. To make things worse, this bar was in an alleyway which made it really difficult to find. I was getting so anxious driving around trying to find the stupid place and thinking about socializing that I almost started crying. I noticed, too, that my leg was feeling slightly numb. At first I was like great, I'm anxious and I'm having some weird limb malfunction, but then I realized that the limb malfunction was a result of the anxiety. So, I talked to my leg. Yep. I was like "Hey leg, I know that you're trying to tell me something. You're letting me know that I feel uncomfortable right now and I hear you."

And you know what? The numbness went away. It's amazing what a difference simply calling out the anxiety rather than trying to squash it deep down can make. (Side note: isn't it great how that meme makes absolutely zero sense outside of this particular context?)

2. Focus on something other than myself – Anxiety can make me pretty selfish. I spend so much time in my own head because of my anxiety that sometimes I neglect others. This just feeds a cycle of depression and then it's like anxiety and depression are spinning around in a mixer inside my body competing for my attention. I can stop this cycle pretty quickly by thinking about anything other than me and my big 'ol anxiety suitcase. If I'm in a social situation I can practice listening intently to what others are saying and, if participating in the conversation doesn't just feed more anxiety I can come up with some questions to ask people about their work or their life or their interests.

I can also use this tactic if I'm just sitting at home getting a great big wave of "where the hell did this come from?" anxiety. Aren't those episodes fun? I can move my attention from the anxiety by doing something like going for a walk with the dog or tidying up a little. I can cook a meal or bake some cookies. Finding an action with results that can be shared is best because it completely removes the focus from myself. I'm walking the dog so he can get outside. I'm tidying up because my husband shares this space (ok, that one is really only for me, but it does make me feel better). I'm cooking a meal or baking because I can share the food with my husband or other family. I have found that some course of action is the best way to combat anxiety. Sitting around and stewing only ever escalates things for me.

​3. Worry Windows – I've talked about his before, and probably will again because Worry Windows work so wonderfully for me. If I have a lot of things on my mind I have found that it's incredibly helpful to write them down. I give myself 10-20 minutes to write down everything I'm worrying about and then I say "OK. That's it. Now I'm going to take action." Of course, I can't take action against every worry, but I just mean that I'm not going to sit around worrying anymore. I'm going to get up and move on. I find this strategy SO helpful because as I write down my worries I contradict myself in my own mind. If I'm worried about money, for example, and I write that down I might say to myself, "we have enough to live comfortably." If I'm worried about my future and I write that down I might say, "I can only do what I can do in the moment." The sheer act of writing down my worries totally takes the pressure off about 99% of what I'm worrying about.

I recently tried recording myself babbling about worries for 20 minutes. I did it this way because I didn't feel like writing, but I was feeling really anxious. It was helpful to talk through my worries, but I think writing is the more helpful approach because it gives me that space to contradict myself. When I'm speaking there's not really any space for that. To counteract the problem I ended my Worry Window recording with some gratitude. (I also made a promise to myself that I won't play it back until at least a decade has passed. I think that will be an interesting experience to hear how a decade changes my worries as well as what I'm grateful for (Of course, I can see these changes in my journals, too, but the recording has the added benefit of cringing at the sound of my own voice!)

4. Take a bath! – When my husband and I were renting an apartment we had a pretty nasty tub that I never bathed in. Now we own our place and we have a cleaner tub that's spacious enough for a relaxing soak. When I notice that I'm experiencing a lot of tension I like to hop in a hot bath, submerge myself under the water and let it hold the weight of my body for a few minutes. I can't float in my tub, it's not that big, but I can simulate the feeling of it well enough. Besides feeling slightly weightless, there's something about the sound of being underwater that allows my mind to let go of wandering thoughts. (I also got into essential oils recently and I like to drop in a little bit of lavender or peppermint to aid in relaxing and letting go).

In the process of approaching baths as a relaxation method, I've learned that I have to light candles and turn off all the lights so that I can't fixate on any areas that might seem a little dirty or soap scummy. As soon as I light the candles, I turn the lights off and run the water. If I don't do it this way, I get hung up on the state of the tub, or the whole bathroom for that matter, and then I end up losing the element of relaxation. There is a set time to clean the tub. Rest assured, I clean it thoroughly and often enough, but cleaning it before I hop in to bathe just gives me more tension and makes me more uncomfortable, so I have to set up the scene to avoid that situation.

5. Singing – A few months ago when I was getting ready to go to a workout class, I was starting to feel really nervous about going. I hadn't been in awhile and the last time I went I'd gone with my husband so I was extra anxious about how the class would go without him to be my workout partner. I had been watching Amazon's original show

Transparent

earlier that day and the characters had busted out in some songs from

Jesus Christ Superstar.

I know that musical well because my mom used to watch it when she couldn't sleep, and hearing the Pfefferman family belt out the classic tunes reminded me of the song "Everything's Alright." I could remember most of the lyrics off the top of my head, but I pulled it up on Youtube so I could sing along to the whole song. The familiarity of it, the harmony of it, the way singing along transported me to a different head space, it all took away my anxiety almost instantly. It was still there under the surface, but it calmed me down enough to get me into the car to drive to the gym, and once I get in a car I'm hard pressed to turn around for anything.

It's funny to me how my mom used to watch Jesus Christ Superstar to help her get sleepy, and now I sing the songs to help calm my anxiety. Healthy or unhealthy, coping mechanisms run in the family. Thankfully, I don't see anything unhealthy in singing a little JCS!

There are so many options when it comes to coping with anxiety that the process of figuring out what's going to work can be anxiety provoking in and of itself. It can get annoying and overwhelming to hear the same advice over and over again so it's nice to know what works so I can say, I've tried that, but you know what these are the techniques that work for me.
Powered by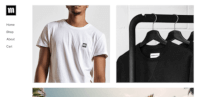 Create your own unique website with customizable templates.