(Recently I was posed with the question of whether or not to quit my job as a preschool teacher. There were the usual mental forces at play here: I was hired for this job for a reason, I can't quit a job I just started, that would be unfair to the organization/coworkers/kids, and I'd be a quitter. These pesky thoughts kept rolling around in my mind as I tried to make the decision, but what it ultimately came down to was the amount of dread and negative anticipation I was feeling about the job and its responsibilities. I could find all kinds of things to blame on the organization, but that doesn't help anything, it just makes me feel like more of a quitter when I start to go down that path.

No, it wasn't the organization's fault. I took the job because I wanted something to make me feel important, and because I was scared that I couldn't do anything else. My resume has become a landing pad for my experience working with kids in places that sound way more awesome than they actually were, like a mental health clinic and a charter school. In a way, working with kids has been my first career and I felt scared to do anything else. I thought, being a preschool teacher is important work, it has the opportunity to be more professional, and it can become a full-time career (why this mattered to me so much, I don't really get because I never wanted it to be my career). I guess, what I wanted was a back-up plan. This idea of a "back-up plan" had never occurred to me though, until I told my coworker I was leaving.

When I told her, I was shocked when she told me "Oh, I totally get you, this is my back-up plan." She seemed so into her job, and before, she had even told me that her heart was in it, and she seemed so disappointed that the organization wasn't offering her more opportunities to advance. Then, with complete transparency she told me, "I'm just waiting for my boyfriend to propose, then I'm going off my birth control and I'm out of here."

I was holding onto my back-up plan not because I was waiting to become a wife and mommy, but because I'm getting my Master's degree in Fine Arts for Creative Writing. (I feel the need to clarify here because "I'm getting my Master's" sounds a bit snooty - I don't see anything wrong with quitting a job to become a wife and mommy, that is a fulfilling prospect as well, that's just not my path right now).

​Anyway, an MFA in writing is the type of degree people ask you "What are you going to do with that?" and they don't ask you with curiosity (usually). They ask with judgement feigned as concern. I have gotten some people who are supportive, I mean when people say to me, "Oh I could know you before you become the next J.K. Rowling," I consider that the most supportive response, I mean really, thanks for believing in me so much that you think I could be the next young adult novel superstar. But, that's not as common a response as questions like, "So, you want to teach?" "So, you want to write books?" "So, are you going to write magazine articles?" (add a tone of deep doubt to all of those questions for best effect).

My back-up plan is now out of the way because I ultimately chose to leave it. I feel like a part of me is mourning an identity I thought I had, as silly as that may sound. I have to remind myself that it doesn't mean I don't like kids (because I do, I love working with kids!), I just don't like working in the preschool environment as a teacher.

Another part of me is excited to figure out what else I can do. I found myself another job, although, it's not leaps and bouds away from what I have been doing, I feel much happier with it. I'm now working as a tutor, mostly with young kids who need help with their reading skills, but the pace of the job matches my temperament much better, and I feel competent at it. More importantly, though, this is just a part-time job. I don't see this as a career, and I'm not looking to make this my back-up plan. It's just something that I'm doing right now.

---

​So, am I quitter? Well, when I left the preschool, I was honest with my supervisor about my reasons, and I stuck it out for the full two weeks at the end. Yes, I quit, so on pure technicality I am a quitter, but I think that I put myself in a vulnerable spot to recognize that it really wasn't working for me. I think it would have made me more of a quitter to have stayed and been miserable until I couldn't stand it anymore. That wouldn't have been good for my coworkers, me, and it wouldn't have been fair to the kids.

​
Powered by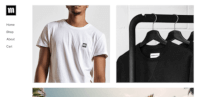 Create your own unique website with customizable templates.