There's a big part of me that's resisting writing this post. A part of me is saying, "Trisha, this is so unimportant, nobody even cares." But, I'm going to write it anyway because I told myself I would.

I have a habit of starting things that I never finish, and usually that's because I tell myself what I'm telling myself today, that what I started isn't that important, it doesn't really matter, why bother?

It is important though, for me at least, because like I said in the first Favorites post, I think it's a mindful activity to consider what you enjoy throughout the course of time, so I want to carry on with it ​(I'm not a paid sponsor for anything I mention). ​I missed July, so I'm combining the two summer months together.





​At the beginning of July I watched the third season of Broad City. I love sitcoms and I love sketch comedy, and this show blends the two into one hilarious combo. The humor in the show is not particularly smart, it's just fast paced and silly. It's easy to want to sit down and watch the show, for me, because I know I'm going to laugh. My husband told me that it kind of reminded him of Seinfeld, and I have to agree. It's like an updated Seinfeld without the outdated jokes, and with more attractive actors.

---

I remember when I was younger, I saw the movie Constantine on the TV guide all the time, but I never watched it. Maybe I thought it would be scary, maybe I thought it was "bad" because it had demons in it, I don't know, but I watched it at the beginning of July and I was like, "Why have I waited so long to see this movie?" Stylistically, cinematically, narratively, (I'm making up words there to keep up with the lys) it is such a great film. I watched it twice because I didn't get everything on the first watch, and for me, that's a good thing. It means that the film is thoughtful and complex.

---

​

When I was younger, I used to wake up with the sun. My mom tells me she was always a little annoyed that I wasn't more like a typical teenager who slept in, because it meant she didn't have as much alone time in the morning. Well, if I lived at home now she'd be happy for those first few morning hours because I can't hardly get myself to wake up at 7:00 AM, which is a late morning wake up time compared to when I used to wake up. I would like to start waking up earlier though, because I hit a wall at 5:00 PM and stop working. I also like to take a leisurely hour or two in the mornings to come around to the day, so it doesn't leave me much time if I'm waking up at 9 or 10 AM. I might be slow to wake up, but I get much more work done in the mornings than I do in the late afternoon or evenings. So, I downloaded a light alarm, but it's too bright in our room and my phone screen doesn't get bright enough, so I found a different alarm app called Alarmy. When my alarm goes off, I have to go take a picture of something in another room (I set it up with a picture of a picture we have hanging in the bathroom) in order to get it to shut up. When I don't have anywhere to be in the mornings, I still get up, take the picture, and lay back in bed for another half hour, but when I know I have somewhere to go or something to do, that alarm is super effective at getting me out of bed. I used to set around seven alarms every morning because I was afraid I wouldn't get up on time, but now I can rely on Alarmy to wake me up. (Habits die hard though, I still set three of them, even though the first usually one gets me up). I've linked the app below, it costs 2.49, but there are other versions that you can get for free, they just run ads.

---

For most of July and all of August I've been sucked into playing a game called Dig or Die. This is a single-player 2D survival sandbox game, but multi-player is coming, if that's your jam.

I don't play a lot of games, and so I don't feel comfortable getting too technical in my response to it, but you can check out the

wiki

to learn more about it. I'll just tell you that even though it's early access, there is still a great deal of content, enough for me (who rarely play games for more than two hours at a time) to have already played 23 hours of it. I love games where you have to mine for materials, and where you get to build and craft. I find it really relaxing to just mine through blocks and blocks of dirt and stone.

---

I went to Minnesota for school this summer. I'm in a hybrid distance/on-campus MFA program and I travel to the school for two weeks twice a year. While I was there, my roommate told me that her favorite place to write is Caribou Coffee. I'd never had Caribou Coffee, so when I saw it at the airport I was excited to try it. I ordered the Campfire Mocha and OhMyGod was it not the best mocha I've ever had. It had little delicious fluffy bits of marshmallow in it, and it wasn't too chocolatey, but it was balanced out with the slight hint of graham cracker. I got really excited and googled to see that there are Caribou Coffees where I live, but I must have been blinded by my excitement, and I didn't double check to see that they are in my city! I guess the Campfire Mocha will just become my airport treat.

---

Go forth, will you, and wake up with one alarm.

Me: What do you want?
Me: To do stuff that feels important.
Me: What's important?
Me: Oh, stuff that matters to other people.
Me: But, what matters to you?
Me: I guess, it would appear, that what matters to other people is what has mattered to me.
Me: Well if you don't know what's important to you, how are you going to do that important stuff?
Me:
Me: How will you do it?
Me:


Powered by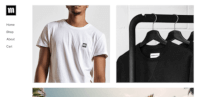 Create your own unique website with customizable templates.