I always forget, whenever I go to post these, whether or not I capitalize each letter in the title and every time I have to go back and look at previous posts. I wonder when I'll ever get it figured out on the regular?

This month, my husband and I moved into our own place. It is absolutely incredible. It is my ultimate favorite. The favorite of all time.

The place is technically a condo, but is set up more like a town house because it feels like we have the unit all to ourselves. There's neighbors to the side of us, but we're on the end so we only have to share the one wall, and I have hardly heard any noise coming from over there. It's bliss I tell you, pure bliss. It's also amazing how many windows this place has, especially since we were coming from a basement, I am basking in the glory of the windows daily, and this is what I woke up to the first morning here:

But, enough drooling. Geeze, they're just windows. Calm down.

​Alright, into the other favorites.


I always find it interesting how grocery stories differ slightly from one area to another, and our new local Wal-Mart has a bigger selection in the Hispanic foods aisle. Where we lived before, there was next to nothing in that aisle, so I had fun exploring and I found some shortbread cookies there that have really captured the interest of my taste buds. The orange-flavored cookies are called Polvorones. I just did a quick google to see if they offered any other flavors, and the search was flooded with recipes (the cookies are also known as Mexican wedding cookies), so I think I will have to try making these at home. I love orange flavored sweets, especially when paired with chocolate, so it would probably be incredibly delicious to dip these cookies, whether homemade or store bought, in some fondue . . .
​


---

I've had a

Pinterest

account since I was like, nineteen or something (at least, my previous profile pic on the account seemed to be from when I was that age), but I've only ever used it sparingly. When I worked a desk job in undergrad, I used it almost daily, and then I used it sometimes when I was a preschool teacher and a para to get ideas, but mostly it sat neglected. Well, I've done a bad thing and downloaded the app on my phone. Now, I've been Pinterest hypnotized for the past week. Like most things, I know the initial fascination will come to an end, but it has taken some will power to not just completely waste the day on it. I especially like posting recipes and ideas for our new home. I've been saving some color swatches for when we're ready to paint. But, I think the biggest allure about Pinterest for me, is the ability to neatly categorize. For whatever reason, making categories and filing things away into them, god it's so sick and probably Type-A, but it just thrills me. Yuck. I know.

(

I feel the need to side-note here, I say "Yuck" because I personally don't like the Type-A parts of my personality. They fill me with a lot of stress and dissonance. However, some people have amalgamated Type-A personality traits into their personality very well, and they own it. For me, though, these traits cause me more frustration than peace. Categorization works well with things, sometimes, and it's all fine on Pinterest, but mostly my desire to fit things into boxes means tasks take twice as long. The other problem is, categorization does not work with people So, that is why I say yuck, not because I think all Type-A people are yuck

). Side-note over.

The other favorite in the apps category is the new mobile game, My Singing Monsters. It has also been stealing away some of my time . . . I mean, it's slightly frustrating because there's only so much that can be done unless you're willing to pay real money, and I am not. So, I log in and collect my free rewards, and then I just want so badly to do more things, but mostly I can't, so I just look at the adorableness of the monsters and listen until the little song they sing is drilled into my brain while I go to sleep at night. I'm not making this sound like much of a favorite. It's a love-hate relationship, I guess.

I have to say, Mobile games have made me very good at waiting for a reward. I hate the way the mobile game market is designed, but then I really want to play some of the games because they're so simple and cute and sometimes that's all I want from a game, so I just wait until I've collected enough free rewards that allow me to actually play.

​Take that, mobile market.

​

---

The first favorite here is not a book, but it is, in a way, a vast collection of books. I recently signed up for an account on

Goodreads

, and although I have not used it yet to its full capacity, I already know that I'm going to enjoy using it because it's that categorizing thing again. I didn't include this under the app category because I'm not using it on my phone, I already have enough stuff to distract me on there.

The great benefit to using Goodreads is that since I'm reading so much for school right now, it's a nice way to remember what I've been reading. Once I get all my reading recorded on there (assuming that I actually backlog, I mean, I might be too busy pinning or staring at My Singing Monsters), it will be nice to see all that I've read and see a small blurb about the book. Sometimes, I read a book, and then only weeks later I forget about it because of all the books that came after it. It will be helpful so that books don't get so lost to the recesses of my mind and I can stop saying to people, "Yea, I read that book . . . I think." (Actually, I don't think I've ever said that to anyone. Maybe I've said it to myself). Well, anyway, Good Reads will be useful to keep all the many books straight.

---

I read this book,

The Screaming Staircase

by Jonathan Stroud in preparation for an essay I wrote this semester about ghosts in children's literature. I'm glad that I came across it because it was altogether an enjoyable book, and I would love to continue the series just for leisure reading.

The protagonist in this middle-grade fantasy novel, Lucy, is a badass adolescent girl who is continually brave and forthright. She is confident in her supernatural abilities and uses them to her advantage, and to the advantage of her team. Plus, Stroud writes engaging and creepy action scenes that kept me invested through the torturous nights these kids spent trying to rid London of evil and restless ghosts. I was rooting for them, and by the end I was disappointed I had to go read other books for school.

---

​I wasn't asked or given any incentive to review or talk about any of these items. I genuinely enjoyed them (well, you know the deal with the mobile game situation - the love-hate thing) and I hope you find some joy in them too.

Go forth, will you, eat some cookies, pin some pins, make some monsters sing, and record all that
​you read.
Powered by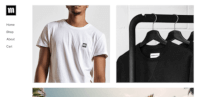 Create your own unique website with customizable templates.