​"Write every day" is a piece of advice that writers hear a lot. I also assume a lot of writers get sick of this advice making them feel guilty for missing a day. It's not very good advice, but I'm kind of going to defend it, just a little bit.

The thing is, I used to absolutely abhor that advice. It made me so mad, mostly because it made me feel terrible for not measuring up. Some days, I just don't want to write. I have always taken that advice the wrong way, though. I thought it meant to write for at least an hour and to write something meaningful toward a bigger project. I thought it meant to sit down and get super serious about what you were working on every single day.

​Then, I started journaling. I have never been good at keeping up with a journal because I always get so precious with it and I want to fill it with only the best of my writing so inevitably I always give up, but I changed my journaling mindset. I realized journaling is just for thoughts. It's not for my most prized stories and poems. Those usually start off in a word document on my computer anyway. No, journaling is for quick notes and observations. When approached like this, writing is very easy to do every day.

I will add to that, that some ​writing is also better than no writing.

Now, I defend the advice "write every day" which plagues and torments writers. In fact, I would extend the advice to non-writers, too.

For as long as I can remember I have had a habit of watching television in the mornings and for as long as I can remember I have wanted to break that habit, but I would always come up with some excuse. I used to feel like it helped me to ease into and adjust to the day and that every time I tried to stop the habit I had an off day. I used to think that it didn't matter whether I did it or not because it was only a half hour of my morning. I used to think it was just a thing that I did and oh well. That was until I started journaling.

Don't get me wrong, on weekends or over breaks I'll still delight in watching some television while I eat my breakfast, but I always journal after the show is over, even if it's just a short paragraph. During working weeks, I journal while I drink my coffee and I don't miss the noisy chatter of the television at all. I have grown to appreciate the silence of the mornings and the time to jot down my thoughts. Journaling has become the activity I need to ease into and adjust to the day.

Some days, all I write is the things that I'm grateful for or what great book I finished the night before, but the magic is in the habit, not the end result.

I've been journaling for four months now, and it has officially replaced my morning TV watching habit. It didn't take four months to get here, but it did take at least two months. At first, I was really excited about my new habit, then I became disenchanted and wanted to quit, but I didn't. I kept going until the thought of not journaling in the morning felt uncomfortable.

​While being able to write every day has been fruitful, the best thing that has come out of journaling, for me, is the process of self-evaluation and discovery. I've been using the bullet journal method and have been finding a lot of different journaling prompts and activities to fill my pages. I've created a Mood Tracker,

​a plan to overcome depressive episodes, a Gratitude Log,


​challenges to work on anxiety and depression, a "Things I Am Good At" page, and a Life Balance wheel.


As you can see from the photos, I'm not that precious with this journal. I'm not trying to create art. Instead, I'm learning about myself in a way that has no-pressure of goodness or intrigue attached. It'd be easy to feel pressure because I see some pretty amazing bullet journals online and a lot of people do approach bullet journals as art, but I have approached this journal as a process and not a product. It's a space just for me and that mindset has made all the difference.

The benefits of journaling have been such that I can't imagine suddenly not doing it. My writing has improved since I've begun writing nearly every day. I feel more confident in the craft and more invested in my own vision. Moreover, I'd say, I have felt quite a shift in my overall mood and my ability to cope with stress since I started journaling. As an example, the other night I started having some negative thoughts about myself. We'd just been to the in-laws where my husband was the center of everyone's attention. I mean, it was his family. I just have a tendency to feel like no one ever thinks I have anything interesting to add to the conversation. My husband has a fascinating career so my stories pale in comparison and I feel like his family just assumes I've got nothing going on in my life except supporting him, so I started to withdraw and feel insignificant. Normally, I'd let those thoughts invade completely to the point of madness, but instead I told myself that just because others don't always recognize the worth of my work doesn't mean there isn't any. I told myself that I am significant and I do matter. And you know what, I actually believed it.

Journaling isn't some magic cure. It's not like creating a better habit around writing and my ability to think better about myself and overcome negative thoughts has been solely hinged upon whether or not I journal, but I do believe that it has been a big factor in my triumphs over these elements in my life because I've used the journal to be more curious about who I am and keep myself accountable to maintaining better habits overall. It has become a daily practice not only in writing, but in both accepting and challenging myself.
Powered by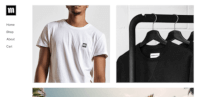 Create your own unique website with customizable templates.