​I've pretty much always set New Years' Resolutions, but there is something about the word "resolution," I think, that trips me up. Maybe the problem is I've never written down my resolution so I have never had any way to come back and review my progress. I mean, I don't even remember what I set out to accomplish last year. Regardless of the reason why the word resolution is a roadblock though, this year, instead of setting a resolution, I've come up with an intention. I was inspired by the idea of choosing a word for the year, but I came up with two words so I'm calling it an intention. I've written it in my journal. I'm writing it here. I've defined what these words mean to me and broken them down, so I'm ready to go.

This year, my intention is to have more gratitude and to be more generous.

I want to focus on gratitude because I have a tendency to be negative. I'm not the type to "keep up with the Jones'" and I don't always feel like I need more material things, but I am the type to compare myself to others in terms of career and experiences. Expressing gratitude for the blessings in my own life will help me to focus on my own career and experiences and be grateful for the opportunities that I have rather than always thinking that others have better careers or more interesting experiences than me.


I want to focus on generosity because money is something I can way too easily be selfish with. My tendency toward negative thinking often propels me to think that we don't have enough and so we can't share. I'm way too eager to let friends or family pay for my meals or coffees when we go out and I want to start giving back to them and to my greater community.

It's not just money I want to be more generous with, though. I also want to be more generous with my time. I can be especially stingy with my time because I have a lot of anxiety wrapped up around the subject, but this year I want to challenge myself on this. I want to offer to help others more and I want to be more social. I want to express more interest in my husband's hobbies and spend more time with him doing things he likes to do. I want to spend more time with my family.

​Lastly, or maybe firstly, I want to be more generous with myself. I want to be kinder to myself and be more generous when I talk to and about myself. I want to be generous in how I treat my body and my mind.

My plan to maintain progress throughout the whole year is to keep coming back to the intention in my journal by:

Expressing gratitude every day
Evaluating my progress toward greater generosity on a monthly basis

​This intention of gratitude and generosity is all about self-improvement and development, but a more professional goal I set for myself is to make a blog post every week in 2018. Writing every week will help me improve my writing skills and keep to a writing schedule. I'm excited to learn about myself through this experience and I'm ready for the challenge.

I think that there is a lot of value in setting goals of some kind, whether it be at the beginning of the year or when we find ourselves in slumps. Goals ensure we are always moving forward and I don't know about you, but to me, a life spent stagnant doesn't sound like much of a life at all.
Powered by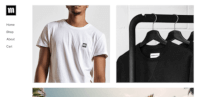 Create your own unique website with customizable templates.