In the breakroom at my workplace, there has been a longstanding and outspoken frustration that there are some people who don't put their dishes in the dishwasher. Since I've been working there, there has been a sign that politely asks people to put their dishes away, but recently, the ante was upped and a new sarcastic sign, complete with the picture of the inside of a dishwasher, was posted. Even more recently, the ante was upped again and a sign with a campaign to raise money for a charity if dishes were being put away, was added to the cabinet above the sink.

My reaction toward the sign was one of confusion. The charity was one that helped children to stay off the streets in violent neighborhoods in Chicago, and my workplace is situated in a very comfy neighborhood in Northern Colorado, so I thought it seemed a little unbalanced to put our "dish problem" up against the violence children live with in Chicago. I was further made uncomfortable by the dish ploy because when dishes were found in the sink, money was going to be taken away from the charity.

​My confusion came in because I have a tendency to jump to dramatic conclusions.

I wasn't sure if I was missing the point of the sign or if I was being overly sensitive, so I took a picture of the sign and sent it to my husband, asking him what he thought. When he simply replied, "what, that's weird," I posted the picture to Instagram and asked for others' thoughts. I was affirmed in my thinking, and then quickly flew to the dramatic conclusions I was trying to avoid:

THE POSTER OF THE SIGN IS AN INCONSIDERATE JERK! THE POSTER OF THE SIGN IS A MANIPULATIVE ASSHOLE! THE POSTER OF THE SIGN OBVIOUSLY THINKS DISHES ARE MORE IMPORTANT THAN CHILDREN!

Yea.

Dra-ma-tic conclusions.

Dramatic and completely inflexible to the actual complexities of the situation.

The more my dramatic conclusions escalated, though, the more I felt called to DO SOMETHING. I worried that if I approached the poster of the sign (who had at least attached his name to it), I would simply be trying to change his mind in the matter and that the whole conversation would be fruitless. I over-analyzed my intentions of starting a conversation and instead, I donated money to the charity myself and posted my own sign letting my co-workers know that money had been donated and they no longer needed to worry about the dishes (I did not attach my name to the sign).

Yea.

I mean, YEA! Because, at first, I was so proud of myself, In my mind, the original poster was a JERK! He had no regard for anybody's sensitivities but his own!

But then, people began responding to my sign.

And I was the jerk.

According to one of the responders, I was entitled.

​I have to admit, the word "entitled" really set me off. I went to my locker and grabbed a pen. I wrote across the top of the sign that the children in the charity were not accountable for our dishes. I made an arrow from the word entitled to the original sign. I WAS PISSED! How dare someone call me entitled! I paced around the breakroom. I felt like I had every right to be mad. I stewed in my anger.

Then I went back to work, and the regret settled in.


I had started a stupid passive-aggressive argument over dishes.

I had taken the emphasis off the charity and off the children involved in the charity, and that was my whole beef about the original sign! The original sign was taking away from what was really important – helping others. But my sign was doing the exact same thing.

I walked back to my supervisor's office, but she wasn't at her desk. I paced around the workroom feeling so frustrated with myself and with the situation. I worried that maybe I only wanted to say something to my supervisor because someone had called ME entitled and then I almost talked myself out of setting things straight, but then I walked back to my supervisors' office again and she was back.

I confessed to posting the second sign.

I expressed my rage at being called entitled and that I was worried my whole purpose for confessing was selfish.

I hardly gave her a chance to chime in as I immediately explained why I was upset with the original sign.

I just kept talking. It was weird. I am normally so controlled, but the words just rolled out of me.

My supervisor, who I have known to also be upset with the dishes, came to the original posters' defense, but it was interesting because according to her, he had a similar idea. It is just a dish, and this child is living in violence, so put your dish away. But for me, in this perspective, the dish, whether in the sink or in the dishwasher, is meaningless. A sink with a few dishes just doesn't compare to neighborhoods under constant threat. In much less eloquent words (because talking to people face-to-face is HARD) I expressed that idea, and I suggested a more positive approach.

Rather than taking money away because of dishes in the sink, couldn't we at least give money because of dishes in the dishwasher? I mean seriously, creating positive incentives, that's just good leadership (I didn't say that part).

My supervisor agreed that I had a point. I then confessed to adding more comments to the sign. I asked her to take it down because I felt embarrassed, and she did. Gosh, I should have just talked to her about it in the first place!

I had made a sweeping conclusion that the poster of that sign was a bad person. I flagged him as a manipulative jerk who didn't even deserve the decency of communication and I experienced the consequences of that kind of black and white thinking. It's slightly infuriating that I had to learn this lesson this way, if I'm completely honest, because I have been challenging this type of thinking ever since I began challenging my anxiety and depression. I thought I knew better.

In my experience, believing that any person is all good or all bad leads to anxiety and thoughts of sadness. It leads to serious misunderstandings. It is difficult to see the world in gray, though, because then there aren't really any easy answers. When I thought the poster of the sign was all bad, the answer was easy - make him feel bad for what he did. But it just wasn't so easy.

I don't condone the sign and I don't condone manipulating people with emotional appeals to get them to do what you want, but I also understand that there are more layers to the person behind the sign than I gave him credit for. Since I talked to my supervisor, the poster of the original sign has offered communication to me about the signs, which is more than I was willing to do.


Powered by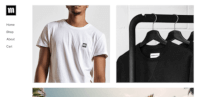 Create your own unique website with customizable templates.