For the past few months, I've been thinking of myself as this emotionally evolved person. I've overcome so many challenges with anxiety and depression. I have wrapped myself in compassion and forgiveness. I have learned to overcome jealousy.

I have forgotten, though, about the little lonely me. I don't want to think about her because she makes me so very, very sad.

​I was talking with a friend over coffee about how I feel like I'm boring and the things that I write are boring and no one is interested in hearing about me or my stories. She told me that while she thinks my writing is lovely, she doesn't ever really see me in it and she wondered why.

I wondered why too.

I have forgotten about the little lonely me. I have neglected her.

​This is important, that little lonely me, because I am writing a novel for children. I am writing a novel for a little lonely child.


I thought that the novel I am working on was about forgiveness, and it probably still is, but it's also about a lonely boy. He is surrounded by the emptiness of an abandoned building. He is surrounded by the silence of his mother about the death of his father. He is desperately trying to fit in with his new friends, even though fitting in means becoming someone he fears.

I see parts of myself in the boy of my novel, Frances, especially in his loneliness, but I have been too afraid to explore that. I can understand how badly he wants to fit in with his friends, even if I never took quite the same path to becoming a part of a group. I did the opposite. I withdrew, but the feelings are still the same.

I have wanted to be liked too, desperately, and I know how scary it is to think that you're becoming someone you don't like in the process of trying to be noticed.

I see myself in these shards of this boy's life, but I have not put that into my novel. I've been avoiding it, and I didn't even realize it.

​The demon of my loneliness is big. It is hiding and it is silence and it is fear. The demon of Frances' loneliness is big. It is a messy house. It's a trailer park and a bedroom and an assemblage of broken glass. It is an asphalt wasteland.

I gave a presentation recently about how important it is to confront our own truths as writers. It's important to connect with ourselves and fully know ourselves so that we can write characters with more depth of emotion and capacity for change. I thought I was giving this presentation because I've done all that myself and I was passing on my wisdom, but really, I was giving the presentation because I still needed to hear all that, too.

Powered by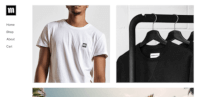 Create your own unique website with customizable templates.