Today I come to you, blog readers, whoever you may be, with Thoughts 1, 2, and 3. I will give Thought 1 a lot of space because it is the biggest thought, Thought 2 will be a little less observed, and Thought 3 will be nothing of the profound variety (although I guess the others won't really be either, but you can decide that for yourself).

Thought 1: This thought was sparked when I went on a bike ride with my in-laws last week. It's been very rainy where we live as of late, so we knew we'd probably get rained on, but we got sloshed on. We stopped for a little bit downtown and listened to a Beatles cover band because hey, why wouldn't you stop and listen to that? We took cover under the awnings and a Starbucks umbrella, then as the rain seemed to calm we headed back through town.

The rain came back. Then it stopped. Then it came back and completely dumped. I was wearing a rain jacket way too big for me and had pools of water inside my sleeves. My feet were slipping off my pedals. We were practically riding through ponds at each intersection. So we stopped again, underneath a gazebo where a man was also stopped. We rode up, said hello and commented on the bizarre weather.

I took my jacket off to try and ring it out, and I noticed the man looking at me. I knew my tank top was suctioned to my body. I didn't care that the man looked. In fact, I sort of enjoyed it. Then I took off my helmet and he looked at me some more. Of course, with my in-laws standing right there he wasn't ogling me, but he seemed to like what he saw and I didn't care.

I didn't care about that man under the gazebo because I've never really thought of my body as something to look at before. I grew up a chubby kid. Other kids called me fat. I lost some weight as I got older, but I never really felt beautiful as a teenager. In college, I was always surprised if guys showed interest in me, and while I wanted to be noticed, I didn't want to be noticed at the same time. I walked with my head down, or with my eyes always on something ahead of me. I darted out of classes as soon as they were over. This wasn't all about feeling shy around guys, either, I just didn't want to be noticed in general, but I did. I wanted my existence acknowledged, but I didn't want to be noticed. Maybe I didn't feel special. I know I felt stupid.

I don't really feel special now, I'm not even entirely sure it's a good thing to feel special, but I don't feel stupid anymore (usually), and unless someone is just being absolutely grotesque about it, I don't care if my body goes noticed. I don't care if people really see me. I don't care if I get caught in the rain on my bike and my clothes become like a second skin.

Thought 2: I got a text message this morning from a friend and I just really didn't feel like answering it. I was busy, damn that friend. Why didn't they know I was busy? So I didn't answer it. Then my dad called me later and I didn't feel like answering it. I was in the middle of something. I'd call him back.

This is a distancing behavior I practice a lot more than I'm proud to admit. I get very focused on what I'm doing and start to care a little less about other people's needs. I mean, I don't know that my friend really needed anything, and my dad wasn't calling about anything desperate, but I think this behavior could stand a little modification. At the very least I could change my thought pattern from "Why didn't they know I was busy?" to "I'll get back to them as soon as I can." That is a lot gentler, and allows a lot more room for more connection when I do return the message.

Note to self (and anyone who needs to hear the same thing): people aren't out to harass you when you're busy just for the fun of it.

Thought 3: I'm living in a basement right now. It sucks. That's pretty much all there is to say about that one.
Powered by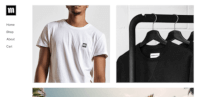 Create your own unique website with customizable templates.