Backsliding isn't exactly the word I want. When I googled it, a bunch of articles came up about "Backsliding Christians." I didn't read any of those articles, but I'm assuming based off these titles "Will God Condemn Backsliders," "Is a Backsliding Christian Still Saved" or "How Can I Come Back to God After Backsliding" that what they're talking about is Christians who start "sinning" by whatever definition they consider to be a sin. In my experience, that is a vast geography of things.

(OK, I felt bad having not read the "Backsliding" articles. I thought I was being insensitive and not giving Christian media a fair chance, but they were mostly what I expected. Though I was surprised by "Does God Condemn Backsliders," which had a gentle tone of forgiveness - very useful for the topic of this post).

I'm not talking about that Christian backsliding, though. I just can't think of the right word. Regression is maybe a bit closer to what I'm looking for, but that seems so much more clinical and too extreme for my uses. So, I'm sticking with backsliding.

What I'm talking about is backsliding in terms of mental health. Backsliding in terms of progress.

I have a tough time with this. I know it's incredibly common and even an appropriate part of mental health recovery, but it still gets me every time. I really hate it when I get into a funk, which, is actually a pretty consistent pattern of mine. I usually go steady feeling good for about a month or two, and then I hit something to lose momentum.

This pattern has gotten better and my window of feeling good has stayed open longer. As I mentioned in my last post, I no longer let bad days get me down like they used to, but there are still walls that I hit from time to time. Like this week, I got sick.

On Monday after work I got a piercing headache that was paired with nausea and put me to bed at 6:30PM. On Tuesday, when I woke up at 10AM I didn't feel much better (I always know I'm sick when I can sleep that much!) No food sounded good, so it was hard to keep my energy up. Then the headache and nausea returned that evening. Then Wednesday was still not great, though I did get out of the house for a good portion of the day at least, but when I was home I laid around. Even today, I've been struggling. I'm not only struggling with feeling physically unwell, but my thoughts are having a hard time staying positive. And after I just posted about being positive!

That's the backsliding. I can't keep up the energy it takes me to stay positive and feel better about myself all the time. Sometimes, that whole process just breaks down. I've been feeling like crap not only because I'm sick, but also because I don't think I deserve to have all this time to rest and recover so the negative self-talk resurfaces.

I'm not sure what to do to mitigate these episodes. I think I can kind of feel when they're coming, but because I'm great at avoiding things, I just pretend nothing is happening until I hit a wall, and then the backsliding begins.

I think the best thing to do is to curb them once they start. I haven't been great at that either because I usually think that I'll just take care of myself by laying around until the mood passes, but sometimes the mood lasts far too long. Sometimes, so much momentum is lost that it takes me a long time to get back on track.

I have to admit,

I feel like I'm sounding like a real loser right now. Moods. Laying around. That's a real and unfortunate part of depression, though and it's easy to grow content letting these moods rule me. It's easy to believe that it's "just the way it is" because to change it requires work and effort and that's hard. But, I would so much rather work on it then continue to be wrapped around the finger of my own negative and harmful thoughts. I have to be aware, though, that backsliding will happen. I have to keep myself alert to it and do my best to lessen the amount of time I spend going backwards.

(I'd like to add that for a mild episode of sickness and depression, for me, one or two days of laying around seems reasonable. But four days is getting excessive and I'm gauging that off how incredibly restless I feel).

My plan to get out of this episode is to submit some poems and short stories to a few literary journals and publications. That is a manageable goal and I know it will help me to go forward again because it's work toward a future goal. I don't think this goal will work for every episode of backsliding, that's something I'll have to feel out each time, but that's okay. What's important is that I begin to identify these episodes sooner and that I work harder to get out of them. What's important is that I forgive myself for ending up there in the first place so that I can move on without guilt.

Working on depression and anxiety has been hard. I think that's why I get so upset when I hit a wall. It feels like the progress is stopping and that all that hard work was fruitless. It feels like I'm going backward in time, but that's only true if I let it be true.

​I always have the power to keep working, to keep making progress.

​
Powered by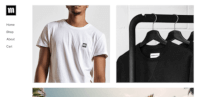 Create your own unique website with customizable templates.