​​Everyone has traits, both physical and personality traits, that they consider to be flaws. To me, human flaws are traits that are changeable. Flaws aren't static. My freckles or the texture of my hair, for example, are not flaws. While they may be flaws put up against the beauty ideal, they are not flaws because there is nothing I can do about either of those things (outside of drastic measures). Of course, this is up to interpretation. Some people might not consider skin lightening or hair extensions to be drastic, but that is outside of my realm of consideration. For my purposes, my flaws are the traits that I can change.

I recently watched a video by a blogger and Youtuber I follow, Laura with "

How to Get Your Shit Together

," and she participated in this "

perfectly imperfect tag

" and shared three of her flaws. In the comments, a lot of people were saying the she was being too hard on herself and that her "overly emotional flaw" was just inherent to her as a woman and she shouldn't worry about it. I highly, highly disagree. Not just because blaming emotions on being a woman is problematic, but also, if Laura considers being overly emotional a flaw, then she must not be happy about the effects that has on her life. She must want to change it! I think it's great that she's aware of it and I don't think she's necessarily being too hard on herself. I don't know her true inner thoughts, maybe she beats herself up about it, but simply considering it to be a flaw and wanting to change it is not unhealthy.

Flaws are traits that might make us unhappy or make other people uncomfortable and there's no reason why we have to live in that misery with ourselves or with others.

This got me thinking about some of the traits of my own that I consider flaws. What are some traits that I want to change, or am actively working on changing? I'm going to share three flaws, and talk a little bit about how I plan to change or how I am changing.

1.

I am a TERRIBLE gift giver.

I actually get really stressed when people give me gifts because I feel a pressure to return it and I suck at knowing what to get people. One of the problems is that I'm frugal, so I don't want to spend a lot of money on a gift. Another problem is that I think about it too much from my own perspective. If I feel uncomfortable about getting gifts, then so will other people, right? Well, that is just silly. There are plenty of people in my life whose love language is gift giving and would absolutely swoon if I got them a gift. I also want to make sure I get people gifts that they will actually use, rather than just little trinkets, and that can delay the whole process of buying a gift because I have to think about functionality and figure out what the receiver of the gift might need. Sometimes though, a little trinket or token of love and appreciation is enough.

I've been working on this by re-framing the whole gift giving process as one that's fun, not stressful. I've been having a lot of fun compiling a Gift Ideas wish list on Amazon and thinking about the interests of my friends and family. With the holidays coming up, it's a perfect time of year to work on this flaw.

2.

I live my life by arbitrary rules that I make FOR MYSELF!

It's absolutely ridiculous, to be brutally honest. As an example, a few months ago I was shopping at Maurices. I was trying on this sweater that had a floral edge at the bottom and when the sales associate asked me what I thought about it I was like, "Oh, I think I'm too old for this." She was like, "But if you like it!" And I was like, "Yea, I'm just making up some arbitrary rule for myself." I realize now, that I do that in all facets of my life! If I decide that some concept is true, then it is absolutely true. I decided that I was too old for that sweater. I didn't make up my mind about that sweater for some other more logical reason like, oh I don't know, I just didn't like it! (which I didn't). Rather, I decided it was true, that at 25, I was too old to wear sweaters with little floral edges at the ends.

I read in

The Mindfulness and Acceptance Workbook for Depression by Kirk D. Strosahl and Patricia J. Robinson

that this "rule governed behavior" is a big contributor to depression, so for me there is a lot of significance in challenging the rules I make for myself.

I've begun working on my rule-making flaw by creating a list of all these arbitrary rules so that I can become aware of them. These rules have become so routine that I'm not always conscious of the fact that I'm making a decision based on a rule, rather than my intuition or feelings. I also feel that it's urgent to challenge this flaw because it doesn't make me happy to follow these rules. It makes me rigid and inflexible. These rules keep me from living more spontaneously and accepting whatever may come and go. I think some sense of routine and normalcy is a perfectly healthy thing to strive for, but I don't want it to get in the way of me living a full and purposeful life.

3. The last flaw I'll share is that

I am not very trusting.

I often assume the worst in people (outside of my closest friends and family) rather than giving them the benefit of the doubt. I don't believe that my acquaintances or colleagues really care that much about me and this leads me to being cold and stand offish. If I don't have an intimate relationship with someone, then I'm not quick to respond to their emotions (unless it's blatant sobbing) because I'm quick to think they might be trying to manipulate me. I'm quick to think they're not being sincere. I haven't had the best luck with friendships in my life, and I know a part of that is because I have not been willing to open up, but regardless of the reason, it has led me to distrusting people. I think there is some value in staying guarded with people who aren't really involved in my life, but I also think that I could stand to be just about as open as I am in this space, in real life. The idea that few people read my posts allows me to open up here, but if I open up to someone in real life and then they open up to me in return, wow, scary stuff.

Vulnerability is so much harder when there's a risk of expressing raw emotion and possibly crying

in front

of someone, or having someone cry in front of me.

To be honest, I haven't been doing much of anything to work on this. Well, I don't know. Maybe these blog posts count. It's like a gradual ladder of vulnerability, at least on my end. It doesn't really allow me to be open to other peoples' emotions, though. So, in real life, I haven't done much to confront this flaw. I am aware, so that's a step, but I am scared to work on it because, well, it's very scary for me.

To demonstrate JUST HOW SCARY THIS IS, I'll share that I have this friend, who I have known for TWENTY years. We went to church together. We went to school together. We lived in the same town for most of our lives, and even now that we don't we still keep in touch. This is a woman who I feel close to. She officiated my marriage! And yet, only recently, as in the past few months, have we been opening up to each other. And I have known her for TWENTY years. It's clearly a big challenge for me to be vulnerable with even my closest friends! I have made progress, but currently, I'm not really taking any active steps toward changing. Every time I think about it this flaw, I find some way to justify it.

Oh, that's just how I am or oh it protects me from pain or looking like a fool

. Even now, I'm thinking that this flaw isn't that big of a deal and I don't need to work on it, but being emotionally distant doesn't make me happy. I can change it. I may never be flamboyantly open about my emotions, but I can share a little more about myself and encourage others to share with me, too. I can learn to trust people a little bit more. I can look for the good in people rather than assume the worst.

That's it. Those are the 3 flaws that I hope to change. I'm not going to share any of my physical flaws because I don't think that's the point of this exercise. There are things about my body that I'd like to change, too, but at this point in my life working on the internal stuff, the head stuff and the heart stuff is way more important. Plus, I find, that when I work from the inside, eating healthy and staying active become a more natural part of my life rather than a lifestyle I feel like I have to force.

Go forth, will you, in a gentle pursuit to change the flaws that make you most unhappy.
Powered by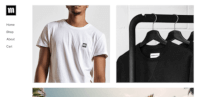 Create your own unique website with customizable templates.