I tend to notice coincidences, or events that feel parallel; events that are somehow connected in time. This last week at work while my coworker and I were doing after school pickup together, I asked her about how she ended up in Colorado, and she unloaded a spiritual journey that involved her taking a huge leap of faith and laying all her trust in God. She was so sure that God had led her to Colorado and so sure that she had made the right decision. I found it incredibly admirable.

Then, before we left the school, a pair of Gideon men were handing out copies of the New Testament. They were completely unassuming, I only knew what they were up to because our student came in the van holding the little orange Bible. She said the men were so nice and that everyone was taking the Bibles. It was so refreshing to see such a calm display of evangelism. When I lived on a college campus evangelism was always so fierce and disheartening, but this student told me that the Gideon men were just saying, "Look to this when you're in trouble. It will tell you where to go."

The coincidence here was timing, I think. That moment of back to back displays of Godly love, not hate, really got me thinking about my own experiences, and I think I needed that reflection right now. I pondered where my experiences have led me and how I've mostly hardened my heart to any notion of God because unlike my coworker, the religion I grew up with was not something I trusted. It was something that had me scared. If I looked to it when I was in trouble it was only because I feared Hell.

On my drive home from work that day, after talking to my coworker and seeing the Gideons, I turned off the radio and thought about my own journey. I thought what I might tell my coworker about my relationship with God. I thought about telling her thank you for provoking the thought in me, and before I knew it, I was crying. I hadn't anticipated getting so emotional, so I tried to think where it was coming from. I pinpointed it to this: the religion I saw was not a display of love.

I didn't see happy religious people. I didn't see people rejoicing in God's love. I saw people scared of the alternative, I saw unhappy people who thought that living by the book and following doctrine could fulfill them. I saw people treat that doctrine as more valuable than their communities and families. More valuable than love.

As I explored this panoramic of the churches I grew up in, I started to get mad. I was mad at religion for keeping me scared. I was mad at religion for closing me up, almost literally. I really believe that religious repression played a huge role in my sexual struggles. I truly thought I was doing something wrong if I so much as hugged my boyfriend too longingly. Guilt swallowed me whole anytime we fooled around, and instead of getting to experience the joy of love, I felt shame. I felt like a horrible sinner. This provokes anger in me because the church (I only speak for the specific churches I grew up in) would rather have people abstain than love. I feel like I missed out on enjoying a pivotal experience during my development and it's hard for me not to blame the messages I got at church for that.

What I saw in my coworker's face though, what I heard in her voice, was full trust and an unfaltering belief that love prevails. I think that's more where the crying on my way home came from, that there was this other, happier way to live by faith. She was able to accept a path for her life and know that she was where she needed to be. I envy the peace in that. I am at war with myself daily about whether or not I'm doing the right thing or if I'm in the right place. This feeling pours out in the fact that I'm always seeking new employment under the guise that I need more money, but really I think I don't feel settled. A new job can't fix that. A bigger paycheck won't make the ache go away.

This morning, I had no desire to check anything off my To Do list and I did a little scrolling through Facebook. I try not to do this because it's a viscous loop more often than not, but I was able to stop after I saw this post from an acquaintance:

Jesus said in John 5:41 that people's approval or disapproval meant nothing to Him. That's a powerful way to live. He was saying, "I know who I am, and nothing you do or don't do is going to change it. You can celebrate Me or you can crucify Me, but I'm keeping My crown."

It felt like another coincidence. This passage is talking specifically about Jesus, yes, but it pointed me to the reason why I often feel so unsettled. It reminded me about the Gideons who said to look to the Bible when you're in trouble.

My biggest trouble, the reason I keep wanting to find a new job and make more money and be something I'm not is that I worry too much about what others think. I even talked about that with my coworker, too, about how I'm easily embarrassed, and she said she used to be, but isn't anymore. After hearing her story, I think her embarrassment has left her because she's firm in who she is and firm in who she believes God has made her to be. She had such peace in herself and in her decisions.

I never saw that peace with the religious people around me during my childhood. I didn't see trust and I didn't have it. Maybe I didn't know where to look and I'm sure it was there, but it was overshadowed by the fear I saw around me and the fear I felt.

I'm so blessed my coworker shared her story with me. It reminded me of a different way I can come to peace. Through all my frustrations with religion, I've never stopped believing in a God. I know there's something bigger than ourselves that we're all living for, and I think if placing faith and trust in God can provide peace and happiness, then it's a worthwhile journey. Believing in God doesn't have to be tied to doctrine. It was the New Testament the Gideons handed out, after all. They were handing out Jesus' love.


Powered by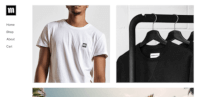 Create your own unique website with customizable templates.