With it being the holidays, I've been thinking a lot about STUFF. I've been thinking a lot about the accumulation of STUFF in general, but Christmas, and spending, and trying to budget has really got me thinking about it almost non-stop.

This occured to me yesterday, when I went to get a few things for the cookies my husband and I are baking for everyone for Christmas this year. We're trying to save money, but also, everyone has everything except for the super expensive things that we can't get them, you know? (Except for my niece, who still believes Christmas is 100% magic, we're getting her something so as not to spoil her 6-year-old truth). But, getting adults stuff they actually could use or even really want, that seems to be the dilemma every Christmas.

Anyway, I was out at Target and I'd gotten all the baking goods I needed so I went to go find a clever way to wrap up the cookies. I browsed the aisle of Christmas wrapping paper for awhile, but soon became super disgruntled at the prices, so I went to the regular wrapping paper aisle and found a way to save myself, oh, probably upwards of $5.

Now, I know that Christams is about generosity, and there comes a point where saving money just becomes a bit of a Scrouge thing to do, but seriously, Christmas wrapping paper is out the butt expensive! In the past, I've purchased plain brown bags and got festive with the tissue paper becasue since I've been an adult and had to buy these things on my own, I've known Christmas wrapping paper is so expensive, but it really got to me this year. It's just STUFF to put STUFF in. It's nothing special.

Christmas has got me ruminating on all this, but I've been thinking a lot more about the financial standards in our world as my husband and I have been looking at getting our own place. Now, we live in Colorado, and it's expensive to live here compared to Wyoming where we came from, but nevertheless I've been blown away by the fact that we can barely afford a starter home! We're not dumb, we know we're not going to get a house with the works, and even so, there's very little out there.

Everyone around us just keeps waiting for us to succumb to the norms, sell our souls to jobs we hate just to get that extra money, but the thing is, by the time we get the extra money, we'll be priced out again. Houses are only going to get more expensive. Even the guy at the bank, with his stable job, admitted that him and his wife keep getting priced out of homes everytime they look!

I'm just getting increasingly frustrated by the mentality that if you just work harder you'll end up the better for it. This "American dream" bullshit. I don't want the American dream becasue I don't want all the STUFF, I just want a small house to call our own, and I know we should be able to do that with what we have. We have money in the bank, we've invested and we didn't blow through all our money in college. I've talked to many people who praise us for our responsibilty. We have worked hard and we are working hard. That's why I'm sick of that whole "work harder" shit, because we'll never catch up anyway.

People who have a lot of STUFF believe that happiness comes from material possessions. They take pleasure in accumulating and they fall for the idea that the more you have, the bigger you have, the grander you have, the happier you'll be. So everyone is always in competition to have the most and the biggest and appear to be the happiest. STUFF becomes more important than relationships and building a life on passion and creativity.

Well, STUFF is a prison and we're not going to condemn ourselves to it. The bank may scoff at us, but at the end of the day we're happier to sacrifice a huge income that can buy us convenience, than to sacrifice our happiness that can sustain us.

---


​This also got me thinking about the Monthly Favorites I post, because those posts ultimately promote STUFF.

Well, there is a balance. There can be pleasure gained from things, but for me I only gain pleasure from things when they're rare and special. I might get temporary pleasure from window shopping, but the things I acutlaly buy and the things I own are not merely a small dent in a pile of STUFF. They are not contributing to a self-made prison of STUFF.

I do feel conflicted with the Favorites, because so many Favorites posts perpetuate consumer culture, but I enjoy writing those posts and I enjoy taking inventory of what I've taken pleasure in throughout the month, and not everything I write about in those posts is even STUFF. Much of it is and will be experiences or knowledge that I've gained, and I think that makes all the difference.
Powered by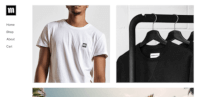 Create your own unique website with customizable templates.