STUFF has been on my mind a LOT, ever since my post, "

Thoughts on Materialism and STUFF

."

My thoughts initially sparked because when my husband and I were living with his parents, we were surrounded by their things, and when we moved I felt surrounded by our own things. We didn't even have that much to move, it only took us one morning to move the boxes and furniture! So, that got me thinking more about where my desire to downsize and have even fewer things comes from.

I've been exploring these thoughts more as I've following some minimalist folks on the Internet, like

Raw Alignment

,

Jenny Mustard

,

Light by Coco

and

Simple Living and Travel

(

I've linked all websites simply so you can check them out for yourself with ease).

The lifestyles lived and encouraged by these lovely ladies look so appealing to me, but at the same time, I think they're a little extreme for my actual life.

I also think what attracts me to this minimal lifestyle, is that I believe it would rid me of anxiety. If I just had less stuff to worry about, if there were just fewer things to look at, then I could be calm. This idea was especially apparent to me during the move into our own place. While my husband was unpacked in about two days, I spent an entire week putting things away. I can't even pinpoint exactly what took me so long, I just went slow because I got hung up on whether or not where I was putting things made sense.

This snail's pace of unpacking got me thinking, if I didn't have all this STUFF (and it's not even that much) then I wouldn't have to deal with the frustration of putting it away in the perfect spots that make my brain shut up.

"Converting" to minimalism, to the degree that many people who tout the label online have, would be a way for me to run away from the problem. There isn't anything wrong in getting rid of some things, and I have, but I think that to essentially purge all my belongings just for the sake of less anxiety would be avoiding the mess in my brain.

Life is not a minimalist's Instagram account. Life is full of things, like old photo albums, and notebooks for school, and a few sets of sheets, and a small collection of stirring spoons for when one is in the dishwasher. It's full of old journals that remind you of where you've come from. It's full of items you've been gifted and things with sentimental value.

I don't want a house that's a storage facility, but I also don't want a house that's full of only functional items and nothing else. I don't think that any of the minimalists I've mentioned would want that, either, they just lead different lives that allow them less items. They travel more. They have less ties to their past, perhaps. But for me, I plan on being where my husband and I are now until we decide to start a family. For me, I can't just get rid of sentimental items because they don't match my aesthetic.

It does appeal to me, to be removed from the material, but I also think that I want to escape into a minimalist's life because I want to hide from my own anxiety. I want a house that doesn't even give my compulsions a chance. The thing is, though, if I went full minimalist my brain would find another obsession. The clean white of the minimalist aesthetic would drive me nuts with the dirt. There'd be so many bare surfaces I'd want to clean to perfection. I'd be busy with dust and streaks.

The point is, I can't run from my brain. I try so hard to shut it up, and minimalism seems like an erasure of sorts, but it wouldn't be.

There's another minimalist lady I follow, and I think she's struck the right balance - Laura with

How To Get Your Shit Together

doesn't present the unnerving perfection that many minimalists do. This blurb is straight from her website, "I'm sick to death of reading productivity and organisational blogs that assume you're the next Martha Stewart with lots of free time at your disposal and a shitload of money in your bank account." Yea, I think she gets that life is not pure aesthetic.

Alright, thoughts released. Thank you for reading, and feel free to share your own thoughts if you feel so amused.
Powered by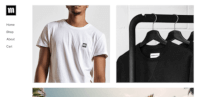 Create your own unique website with customizable templates.