I was having coffee with a professor from my undergrad and she said something that really surprised me. She said she remembered that I had cool clothes!

When I was getting my undergraduate degree, I experimented with my style a lot. I had gone from the more extreme days of my pseudo-goth-style in Junior High School -

​to my I'm-doing-everything-I-can-to-not -be-immodest-(but also I kind of want to look sexy)-style in High School -

​

to the I-don't-know-who-I-am-style in college. That's why it surprised me so much that my professor remembered my clothes as anything other than how uncomfortable I thought they made me appear. Unfortunately, I can't find any photos that accurately represent this hodge-podge fashion moment, but it was something like lots of shorts and tights and colored cardigans and chunky necklaces and red lipstick and skater dresses with leggings. Perhaps I wanted to look something like Jane Lane -

but I got confused somewhere along the way.

After college, I got a job as a preschool teacher and I no longer wanted to fuss with my wardrobe. I needed clothes that required minimal maintenance and that were comfortable enough for a wide range of motion. I leaned heavily on jeans, t-shirts and hoodies. After a year of working in that stressful environment, I got a job as a paraprofessional at a charter school with a business casual dress code. I rarely felt comfortable in my clothes at that job. I had one awesome legitimate suit that I'd wear on days when I was substituting for the teacher I worked with - and I felt pretty badass in that - but otherwise, I felt like clothes were a total nuisance.

Come to think of it, most of my life, clothes have been a total nuisance. My mom used to have to plead with me to try clothes on in the stores. I used to cry on those school clothes shopping days and many of the clothes I got would go to waste because I'd later discover that they made me look fat. Even when I was playing around with fashion, clothes were still a nuisance because I was either stressing over looking good or stressing over how uncomfortable I felt.

Now, I will try clothes on and I don't absolutely dread shopping and I know my style well enough to purchase clothes that make me look and feel good: jeans, unassuming tops, and black boots. I have about seven outfits on rotation for work and only a few outfits to choose from for non-work days, which makes choosing my clothes one-hundred-million times easier. On occasion, I do look forward to gussying up for a date with my husband or going to a concert or meeting up with my family for holidays, but the majority of the time I just want to wear what I always wear. Jeans. T-shirts. Hoodies. Well, I don't really wear hoodies too much anymore. I've advanced to neutral-colored cardigans. So adult.

What I've discovered about this style is that I feel comfortable, and when I feel comfortable, I feel badass. When I'm wearing my jeans and my ratty old pirate boots and a plain top I feel like I don't just walk around, I strut. On the occasion when I have a sexy and cool outfit for date nights or concerts I go back to that joy I got from crafting my pseudo-goth wardrobe in Junior High School, but I don't need to have a unique outfit every day.

Whether I like it or not, the clothes I wear affect how I feel and how I present myself. It feels a little bit trivial to be concerned about personal style, but we have to wear clothes if we're going to go do stuff in the world so for those of us who have the luxury of personal style, we might as well feel good about what we wear.

Something else that's helped me become more comfortable is that I've learned to love a good quality clothing item over a fashionable one. I've become much more interested in shopping ethically and purchasing fewer, higher quality items. If this is an issue that interests you, too, I encourage you to do research about capsule wardrobes and how to shop sustainable fashion. I'll link resources that have been the most helpful for me in navigating this new way to shop:

Justine Leconte, fashion designer and content creator:

www.youtube.com/channel/UChxkFSjTE7nLCHsDk8_pRhg

Justine Leconte on escaping the fast fashion trap:

www.youtube.com/watch?v=0ur13KvWoWE&t=698s

Justine Leconte's TED Talk:

www.youtube.com/watch?v=zRcb6GC7ZB8

Adam Ruins Everything: Why Fast Fashion Fails Us:

www.youtube.com/watch?v=RC3jVZneuns

Go forth, will you, to shop smart and kind.
Powered by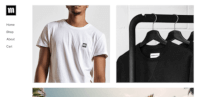 Create your own unique website with customizable templates.