Over on my

Tumblr

, I've been writing small vignettes chronicling my own experience with vaginismus, and I have a link to an

archive

of the posts if you've sworn off Tumblr for obvious reasons.

In my vignettes, I take a rather sad approach because I'm still struggling with the condition, and it's hard sometimes to feel positive about the parts of my past which I belive contributed to it. Today, though, I want to talk about some ways to help overcome it, because it is the most treatable vaginal condition, so there's a lot of room for hope. I'm writing this just as much for myself as I'm writing it for anyone else who suffers from vaginismus.

The first step is to find a doctor who believes you, and understands your struggle. Don't settle for a doctor who belittles your experience or makes you feel ashamed in any way. When I finally found a doctor who acknowledged my situation, she used a smaller speculum (which I didn't even know existed!) and she gave me information about

vaginal dialators

, which help retrain the muscles of the vaginal wall. Basically, they're exposure therapy. I've linked the set that I use, but there are other places to get them..

Getting a compassionate doctor you can trust and investing in vaginal dialators can be pretty overwhelming tasks, especially if you have past trauma with doctors, or a sexual abuse history, so the list below details a few other ideas that can be helpful, as well as fun additions to your recovery.

1. Purchase a vibrator

If your experience with vaginismus is anything like mine, then you were shamed as a young girl for your sexuality, and buying a vibrator might feel naughty, or dirty, or unnecessary. Well, you get to decide if it's unnecessary, but it's absolutely not naughty or dirty. Using a vibrator allows you to be in complete control over any penetration that might occur. Unlike vaginal dialators, vibrators are a pleasuable way to expose yourself to penetration, and since vibrators are more sexual (dialators are just boring and medical), it can really help prime your brain. You'll know what kind of sensations to expect. You'll know if there might be pain and to what scale, and you'll know your limits.

2. Treat yourself to lingerie

At times, vaginismus has made me feel like an inadequate female. It has made me feel as though an essential part of my experience as a woman has been missing. Lingerie can be helpful if this is something you struggle with too. Vaginismus can make sex feel like a chore. The condition can make it hard to feel in the mood, and it can make you feel like your body is lacking, like it isn't enough for your partner. Investing in lingerie can help spark a desire, beyond just the desire to finally have penetrative sex. It can remind you that sex is meant to be fun and enjoyable. Lingerie that makes you feel comfortable and sexy can remind you that you deserve to feel good.

3. Be vulnerable

I was going to title this one, "be open," but then I thought that might be too much of a pun.

What I mean, though, is be open with your emotions. This is something I have to continually work on. I'm not very willing to talk about myself, especially when it comes to something as intimate as my vagina. I've been trying, though, to tell my partner about any setback or success I might have. This way, I have someone to listen when I'm feeling disappointed and let down by my body and someone to celebrate with me when I'm feeling excited about my progress. If you don't have a partner you can trust, find someone else you can talk to about your journey with vaginismus. Maybe it's your mom, a sister, a friend. If you can't think of anyone you feel comfortable talking to, then find a therapist or reach out online. There are

forums

where you can talk with women who are going through the same situation. If you're finding it scary to put your own story out there, then start by reading

other women's stories

. It can feel lonely to have vaginismus. There's so much comfort in knowning you're not the only one.

I felt, for a long time, like I was alone, but I wasn't, and you're not either.

Vaginismus is a personal pain. If you're suffering from it, no one can tell you what will work for you, but I hope you know that you deserve to find out.
Powered by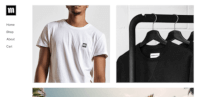 Create your own unique website with customizable templates.