I've been thinking a lot about the role of music in my life lately. One major reason for this is I've been converting all my CDs to digital files so that I can get rid of all my physical CDs. The experience is really bringing back a lot of memories and reminding me about the role music

used

to play in my life. It's been a while since I've taken the time to really appreciate music, so I'm thankful to have been reminded about how music used to bring me such joy.

The other reason for this musical reflection is that I've been driving a lot more lately. We just moved, and I have a longer drive to work now, which means more passive time that I can listen to music. One of my favorite new stations, 105.5 The Colorado Sound, plays a wide variety of music, plus they do some cool weekly programs like "Bring To A Boil and Cover" where they play an original song followed by a cover. This Friday they played

MANAMANA

, and I learned that the band Cake once made an album for kids, complete with a cover of that song. I didn't even mind that I was singing MANANANA the rest of the day. At work that same day, one of my students said that a nine sided shape is a nanonogon, and I started singing NANONOGON. No regrets.

The last reason for my musical musings is that I've been thinking about how older people always think the music from their youth is the best. Well, I get that. Another station I listen to, 99.9 The Point, does a Throwback Thursday and every time I hear the program I get that wave of nostalgia, and can't help but turn up the volume and sing along.

That nostalgic feeling brought on by music is the inspiration for today's post, which is a track list to a public playlist you can find on my Spotify [follow me @ wingedzion]. The playlist is,

1. Miscellaneous Tracks of Sorrows and Joys

(there's a 1. because I have a private playlist of the same name that I'm using to post ideas before I transfer them to the public one). I have every intention of updating this playlist monthly, so I hope you check back in next month for a new playlist!

Per the behavior of my past CD mixing self, I am going to include a small blurb about each track. And since this month's playlist was inspired by my nostalgic musings, I'll include a memory about each track, too. So, this month's blurbs will be a little lengthy. Nostalgia makes me blurby.

​Of course, if you have no interest in my blurbing you can head straight to the

playlist

.

One more thing before the tracks; there's only one thing that could make this more authentic to my past self, which is if I could change the order of the songs once I've added them. I used to take the most meticulous care ordering the songs on my CD mixes, even sometimes adding "transition" songs that were short or just instrumental. Oh, younger Trisha, weren't you precious.

1. Miscellaneous Tracks of Sorrows and Joys1. I Like Giants by Kimya Dawson

- This song is a trigger of existential ponderings. I used to drive around my hometown listening to it, and I have a clear memory of driving out on some country road, then pulling over and listening to this song while I watched the sun rise.

2. Mouth Like a Magazine by Showbread

- I remember watching the music video to this song when my family and I all shared a family computer, which was in my dad's office, and as I was watching my dad was like, "Wow, that's the worst thing I've ever heard." Of course, that only made me like it more.

3. Somewhere Else by Razorlight

- My parents always had cable growing up, and we used to get this channel, IMF, as in International Music Feed, and the channel was what MTV should be, all music videos. It's through this channel that I first heard this song. I very clearly remember having a HUGE crush on the lead singer, with his pea coat, shaggy hair, and broad jaw.

His bedraggled appearance in the video only added to the appeal.

4. Gigantic by Pixies
- I don't have as vivid a memory about this song, I just remember that my oldest sister put it on a CD mix she made for me one year as a Christmas present, and I loved to listen to it as loud as possible, mostly because the sound quality wasn't that good and it came through the speakers really quiet.

5. Here it Comes by Modest Mouse
​- This is another song that my oldest sister put on a CD mix for me, and I remember listening to it on repeat for weeks while I drove to school or work, or to meet up with my boyfriend. The song has a sound that makes me feel kind-of weird, an unnameable feeling brought on by other songs I've listened to, and I have no idea what that's about. I'd be curious to know if that happens to anybody else.

6. The CN Tower Belongs to the Dead by Final Fantasy
- I put this on a CD mix for my friend JD in High School and I remember I was so excited because it was rather obscure, and he was into obscurity, so I thought he'd also be stoked, but then, to my disappointment, either he had some criticism about the song, or was just blasé. I can't remember which. Whatever. I still love it.

7. All These Things I've Done by The Killers
​- "I got soul, but I'm not a soldier" is the line that stood out for me in this song. Not only because it's the bridge, but because I think I related to it on an emotional level. I remember singing along to this will all my soul. And, if I remember correctly, I'd recorded it onto a cassette tape after days of hoping it would come onto the radio so I could trap it forever.

8. Child I Can See Ya by Katie Herzig
- This is another song that wrapped me in existential thoughts (and still does). My best memory of this song, though, is hearing it performed live after the third time seeing the artist in concert. That moment, listening to the artists perform this only a few feet in front of me and leaning back into my husband's arms as we swayed slowly to the beat, is probably the most peace I've ever felt.

After the concert, I got to gush at Katie about how much I love this song. I rarely fangirl, but when I do, I fangirl hard.

9. Samson by Regina Spektor
- My husband and I often sing this song together. I even wrote and framed the lyrics for him as a gift when we were still dating. I'm not sure why, it's not necessarily romantic, especially considering its origin story of Samson and Delilah. So, let it be known, my husband has short hair, and I will never betray him.

10. Me and Julio Down by the Schoolyard by Paul Simon
- This comes from the soundtrack of The Royal Tenenbaums, my favorite movie of all time, and this song reminds me of the scene with Royal and his grand kids running a muck around town.


​11. House of Cards by Radiohead
- This is another song that makes me feel inexplicably weird. It also conjures up existential questions. I remember on one of my trips to Nicaragua in High School, I had gotten sick and was laying in bed, listening to this song over and over again, questioning the existence of a god and wondering what the hell I was doing with a bunch of Christian missionaries.

12. Play Crack the Sky by Brand New
- I used to do this thing when I was a teenager, whenever I got sad I would just let myself go down the rabbit hole. This song was a ladder down that hole.

13. Road to Joy by Bright Eyes
- As a kid who grew up in a religious house hold, I often felt like saying swear words was some kind of horrific sin worthy of severe punishment. I think I felt this way up until High School. So, I remember I found tremendous thrill in this song because of the line "Let's fuck it up boys, make some noise!" And I remember still feeling slightly guilty for repeating it.
​
14. Trouble by Coldplay
- Coldplay was the first band that I found without the guidance of my older sisters' music choices, and so I latched on pretty hard to them. Up until the last few years, I had every one of their CDs. I remember watching the video for this song on IMF, and being enthralled by it. What a strange and lovely creation.

15. Burn the Witch by Queens of the Stone Age

I have a weird memory associated with the artist of this song. In my junior high English class we were doing some free writing to music, and then we had the opportunity to read out loud. A classmate read about how she knew the artist of one of the songs we were listening to, My Chemical Romance, and I remember feeling my face go hot because I also knew an artist to one of the songs and had written about it, and I wanted to "show off," too. So I read mine aloud and thought I was way cooler than my classmate because everyone knew My Chemical Romance, but who else even knew Queens of the Stone Age?
​Wow. Yea, I was like that. But, then, I think most teenagers have a "cool" complex. Right? I wasn't just a total crazy person?

Alright, that's it for this month's playlist. If you enjoyed the songs, I suggest saving the track list, or creating your own separate playlist, because "1. Miscellaneous Tracks of Sorrows and Joys" will
​change monthly.
Powered by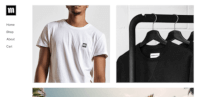 Create your own unique website with customizable templates.