Noticing progress is the best feeling. Whenever you're working on a project or a personal goal it can feel like it's taking forever to see results, but when you notice them, whether because you're tracking progress or because you're being observant in a moment, it is the best feeling ever!

This happened for me recently in a rather unexpected scenario. I've been working on my self-worth and confidence for a really long time, so sometimes it feels like I'm going nowhere and still feeling the same shitty ways about myself that I always have, even though I know that's not true, it's hard to believe it without evidence. I have been much more vigilant about keeping track of my progress and becoming observant to the ways in which I've grown, but there hasn't been any times where I've acted on this progress in public (at least as far as I've noticed), until I met Nebula the Happy Space Monkey.

​I met Nebula last night when I was I hanging out with a new friend. I have had a friend crush on her for a while (you know that friend crush feel, right?), and we've had tentative plans to go to the Glow Golf place in the mall together, and last night we finally realized our plans. After Glow Golf, we walked around the mall, and she wanted to stop at one of the kiosks because they were selling those little Happy Monkey toys (apparently, these are knock-offs to the crazed Fingerlings, but I'm not seeing that they're any different).

They were having a Buy One Get One Free deal so I agreed to get one with her. I had my eyes on a little white monkey with a pink tuft of hair - she looked like a little space monkey - while my friend was eyeing the little turquoise monkey with a purple tuft of hair - she looked like a little 90s troll monkey.

With visions of possessing our own little happy monkeys, we walked up to ask about it. The guy said, "Oh no, it's one for $15 but two for $25."

"Well, that's dumb," my friend scoffed.

I explained to the guy that that is not what we wanted and we were about to walk away, but then he started to haggle with us! The haggling caught my friend off guard, and then I caught my friend and myself off guard by pushing back!

​"What about $20?" he asked.

​"The sign says buy one get one free," I said.

"OK, would you do $18?" he pleaded.

"I just don't understand why the sign says buy one get one free if that's actually not the deal you're offering," I said.

"Oh, yea, my boss said there was some deal . . ." the kid mumbled something I didn't quite understand, "but if you want two for $15 then I'll do that."

"Well, I mean, obviously that's what we want," I said. And my friend and I walked away with two little happy monkeys for the deal that was advertised!

I feel pretty damn great about that. It might seem small and insignificant, but because I've become observant to my progress, I know this indicates a shift in my confidence and understanding of my own self-worth. A past version of myself would have simply told the guy "no thank you" when he tried to sell up the price. I would have blamed myself for being innocent and easy to fool, but this version of me knew that he was trying to cheat us. This version of me wasn't afraid to point that out and get the advertised deal.

​When we walked away my friend was laughing, "I can't believe you did that," she said. I kind of couldn't believe it either, but then, I also could believe it - I can believe it - because I'm not the same timid person that I used to be.

Initially, I only went in on the purchase because my friend was so excited to get a little happy monkey of her own. I didn't totally want one for myself (ok, I kind-of wanted one for myself), but I'm glad that I have her. Nebula, my little happy space monkey, can remind me of how far I've come.

Powered by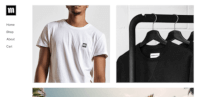 Create your own unique website with customizable templates.