When I made a monthly playlist last month, I said that it would always be called 1. Miscellaneous Tracks of Sorrows and Joys. I did this because I didn't want to have to create a new playlist every single month and end up with a million playlists, but I realized I can just edit the title! So, this months playlist is all about some awesome women who I love to listen to. Some I've discovered recently, some I've been listening to for years. Like Regina Spektor or Emilie Autum. They've been on playlists I've been making since I was probably 14 years old.

April's track list,

Rad Lady Vocals

(

As always, all links are only for your convenience):1. Girls Just Wanna Have Fun by Emilie Autumn

A friend of mine from middle school got me into Emilie Autumn. I love her creepy Victorian doll aesthetic, and I think she's a very talented artist. I know the harpsichord isn't for everyone, but personally I love the tinkly piano sound. Regardless if you like harpsichord, it's hard not to get into this rendition of Cyndi Lauper's "

Girls Just Wanna Have Fun

" because you can tell that Emilie and her band are enjoying singing it!

​2. Earth by Imogen Heap

Imogen Heap is best known for her song, Hide and Seek. I think that Jason Derulo's song, "Whatcha Say" that utilizes the original song's chorus, made the song even more popular. I guess Derulo's song isn't technically a cover, but it's hard not to recognize Imogen Heap's song intertwined. ANYWAY! The track on this playlist is "Earth." I chose this song because it has a very lighthearted sound to it, which is nice to hear from her. So many of her songs are emotionally battering, but this one, whether or not the lyrics are exactly "pick me up," has a nice upbeat tempo.

3. Shut Up Kiss Me by Angel Olsen

I first listened to Angel on NPRs Tiny Desk, and have since heard her on the radio quite a bit. Her old-timey vocals combined with the deep guitar riffs is such a fascinating combination. The music style is also incredibly relaxing, even when the tempo picks up.

4. Mother by Florence and the Machine

This song intrigues me because I feel that Florence is using the word "Mother" in the chorus to mean god.

"Mother make me / Make me a bird of prey / So I can rise above this, let it fall away."

She interchanges it with "Lord" in the intro and outro as well. "Oh Lord, won't you leave me / Leave me on my knees?" In each plea, she's asking Mother or Lord to do something god-like or spiritual. I've always loved the idea that god is genderless, it gives me a great deal of comfort, so in conjunction with Florence's absolutely amazing vocals, this song has a lot to offer me.

5. Green Light by Lorde

I'm not one to keep on top of the newest releases, but I saw the music video for this on YouTube trending (albeit a week after it had already been circulating all over the Internet because I'm just always late to the party) and I watched it with relatively low expectations. I enjoy Lorde's music, but I wasn't expecting to be blown away! What I love the most about this song is its different "layers," if you will. I like how the tempo and feeling of the song changes. It starts low, kicks up, then in the beginning of the chorus the instruments are stripped back and the song focuses on Lorde singing. This kind of variation is something that I've noticed myself craving in music. I've listened to a couple covers of this song and none of them get it right because, I would imagine, it's hard to replicate all the song's layers without a production team.

6. Hideaway by Karen O

I've loved this song ever since the film for

Where the Wild Things

came out. I love the imagery of the line, "Hideaway, well they'll seat us in the sun." I know that what's meant is being sat where there's sunshine, but I've always imagined it as literally sitting on the sun. Probably because I associate this song with the story, which is an imaginative tale, and I always recall that scene in the film where the teacher is depressing his students with the possibility of the sun "dying," as he says. "The sun, after all, is just fuel, burning ferociously."

​7. Wherever is Your Heart by Brandi Carlile

Now, I'll be honest, I don't go crazy over Brandi Carlile, but when I googled "bad ass female vocalists" just to see if there was anybody my own arsenal was missing, hers was about the only name I could find! I do like this song, though, I always enjoy it when this one comes on the radio, and until I looked her up I didn't even know this song was hers.

While I don't love Carlile, I am taken by this

collaboration

she took part in with Old 97s in which she voices god. Like Florence refers to god as Mother, this song refers to god as a she. Carlile's voice booms authoritatively into this song, which makes me wonder if maybe I haven't given her solo stuff an appropriate listen.

8. Every Single Night by Fiona Apple

I owned a Fiona Apple CD as a teenager, but I seldom listened to it. I don't remember which CD it was, but it wall all to slow and each song seemed too similar to the others. However, I've been interested in her again since her

anti-Trump protest song

came along. What I like about "Every Single Night" is, much like what I like about Lorde's "Green Light," the song presents quite a bit of variation. It's a far cry from the songs I couldn't get into on whatever CD of hers I used to own.

9. Black Rainbow by St. Vincent

I became interested in St. Vincent when I saw her

perform this song with Andrew Bird

. It reminds me a bit of Kimbra's "

Settle Down

" in terms of its dark domestic content, but it doesn't have that same pop sound to it, and its sounds match its darkness much better with that ominous instrumental refrain all throughout. It is juxtaposed with the fluttery flute, but by the end the dark parts of the song have consumed the flutter.

10. Intertwined by dodie

I've been following dodie on YouTube for a year or two now, and it seems silly, but I'm proud of her for getting this ep out in the world. This is one of my favorite songs of hers, I've loved it since she first uploaded it and I'm so happy it's on the record. She released a pretty dark and emotional

music video

for it recently, which sparked a lot of discussion among her fans because so many people interpreted the song as sweet and lovely. dodie then released a video

breaking down the song

, which spun a totally new perspective for me. I have to say, I love it all the more.

11. Runs in the Family by Amanda Palmer

Ever since "

Coin Operated Boy" by the Dresden Dolls

, I have loved Amanda Palmer. Her music and projects aren't for everyone and she openly acknowledges that, but I like her urgent vocals. I always feel the passion behind her music, like if she doesn't SING NOW SHE'LL DIE! She also has a pretty cool and quirky musical comedy project with Jason Webley called

Evelyn Evelyn. 12. Rejoice by Julien Baker

NPRs Tiny Desk has done it again, introduced me to music I adore. (I wonder how incredibly amazing it is to go on Tiny Desk as a musician?) Julien Baker reminds me a bit of Bright Eyes in terms of her lyrics and tone. "Know my name and all my hideous mistakes." She seems like a very happy person when you watch her

perform live

, though. She also smiles in a lot of her pictures. The same can't be said for Conor Oberst. He's got the gloom all around.

13. The Trapper and the Furrier by Regina Spektor

This playlist wouldn't be complete with Regina. The first song of hers that I remember falling in love with was . . . hmm, you know I can't pick one. I remember having a CD mix of all Regina, and loving each song on it. Her new album has quite a few misses for me, but "

The Trapper and the Furrier

" reminds me of all the quirky yet insightful lyrics that I've always loved.

That's it for this

month's playlist

. I had fun reminiscing and exploring new music. Who are some of your favorite lady musicians?
Powered by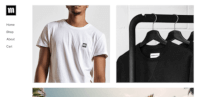 Create your own unique website with customizable templates.