I have become a little obsessed with self-improvement. If I notice a trait or quality about myself that I dislike or that makes me uncomfortable or unhappy, I want to change it. I see it as an opportunity for growth rather than an opportunity for acceptance. While it's not a bad thing to want to change and improve, it can be harmful when the desire for change is rooted in self-loathing.

A few weeks ago, I broke down crying because for a long time I had been suppressing a need for my husband to clean up his messes in the kitchen. This isn't a new cycle, I'm pretty sure I've even mentioned this exact scenario on this blog. Often, I push down my discomfort with mess so much that it eventually boils over and I cry and shame myself and feel downright miserable. I am a tidy and generally organized person, but I resist the heck out of it. For some reason, I don't want to be like that. I think I need to change. I don't see the opportunities there. Being tidy and organized are traits lots of people wish they had, and yet, I resist them. I resist a lot of things about myself that I don't like because I feel a lot of contention over the whole idea that people need to accept themselves and if others can't handle it then too bad because I think it leads to a lot of problems. For example, if I were to simply accept my anxiety and not bother trying to get better, then I'd be asking people to put up with a lot of annoying behaviors like arriving places way too early or reacting negatively to any changes in plans. There is a balance, like everything, of self-acceptance and self-critique. I have been leaning way too hard on the self-critique side of that scale and it's making me feel terrible.

​Self-improvement is a noble journey, but it has to start from a place of acceptance. It seems so counter-intuitive to me to accept something that I don't like before I can change it. It also seems wrong to me to simply accept some things and not bother changing them at all, like my tidiness. Tidiness only makes me unhappy to the extent that I haven't learned to deal with the untidiness of my husband, but becoming untidy myself won't solve the problem, it will only make me more uncomfortable.

I'm reminded of the serenity prayer, a prayer that used to mean a lot to me, I remember because I had it hanging above the light switch in my bedroom when I was a teenager:
"God grant me the serenity to accept the things I cannot change. Courage to change the things I can, and wisdom to know the difference."
Somewhere along the line I got too hung up on the "courage to change the things I can" part of that prayer, but the whole prayer is titled after Serenity. I guess I just kind of forgot about that last line and never really found the wisdom.

There is a balance between accepting my own need for order and finding serenity in the midst of disorder and I don't have berate myself or ignore my own needs to find that balance.

​I'm learning to reflect on the wisdom line of the Serenity prayer. I'm learning to find the power in self-acceptance and know when to seek improvement.

Powered by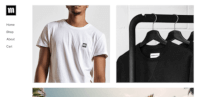 Create your own unique website with customizable templates.