I have something I need to get off my chest.

I HATE SELF-HELP GURUS.





Specifically, the kind that sprout their business online.





Specifically, the kind with "life experience," but without any formal education or training.





Specifically, the kind that try to solve problems by rejuvenating daily routines or decluttering closets or giving out loads of free buzzword content and then charging stupid amounts for "services."



It may sound like I've had a bad experience with a self-help guru. Like I got scammed, but I didn't, I just hate that these trolls are out there scamming vulnerable people. Because really, the people who seek these services

are

vulnerable! People who seek self-help materials are down, they're often desperate and willing to pay someone money to solve their problems for them. And self-help gurus are takin' it. They're taking that sad sad money. They're falsely claiming to fix people.



This isn't just a problem in the self-help world, it's a problem wherever there are vulnerable people and it makes me mad in all its forms, but I'm just thinking about its vigor in the mental, physical and spiritual health realm.





The thing about these self-help gurus is that they want you to keep paying for their products. So many of them, the skuzziest of them, are not going to actually help you get better. They're going to give you steps and products rather than help you discover solutions on your own (like a good licensed counselor will do!)





So, here's the thing. The real way to get better is this: Stop being a little bitch and making excuses. Realize that life isn't fair. Be honest with yourself and start identifying your emotions rather than suppressing them.

I just self-help guru'd you in two seconds.

Okay, so obviously that kind of blunt advice isn't good either.





That's because advice is pretty shitty as it is. What works is discovering solutions on your own.





Sometimes that requires a little nudge or some help, and for the best, longest lasting results that help should be from a licensed counselor: a licensed counselor who you've shopped around to find to make sure that they're a good fit for you. A counselor who is going to challenge you and not just make you feel good every week.





This help shouldn't come from a self-help guru. And for the love of god, do not pay a life coach.



My distaste for self-help gurus is why I generally avoid using "you" or "we" when I write these blog posts. This post is an exception because I just really firmly believe these things to be true, but usually I write testimonial style because I'm not trying to give advice. I'm not trying to say "you should do this" (other than to say that you should find a counselor and not pay some life coach to solve your problems). I only know what has worked for me and this blog is a space for me to explore that. I do hope that other people take something from my stories, but I don't really hope that I offer anyone a solution, because the best solutions are discovered on our own.



I mean, think about it, when someone tells you what to do are you quick to do it?



Probably not.

Do you sometimes do the opposite?

Probably.



We may need some help to discover our own solutions, but ultimately if they come from within us, then those are the solutions that we stick to. Those are the answers that we adopt as lifestyle changes.
Powered by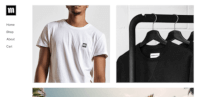 Create your own unique website with customizable templates.